Quote:
The Sniper M24's Weapon System (SWS) merupakan senapan sniper Angkatan Darat AS. Seperti dalam USMC M40A1, M24 yang menggunakan Remington 700 , meskipun terlihat terlalu panjang,namun dibuat untuk beradaptasi untuk mengambil 0,300 Winchester Magnum bulat.HS Precision terbuat dari komposit Kevlar, grafit dan fiberglass diikat dengan resin epoxy, dan fitur seperai blok aluminium dan plat butt disesuaikan dilapisi serbuk logam untuk daya tahan ekstrim
Quote:
S P E K
Kaliber : 7.62×51mm NATO (.308 win)
Operation: Bolt Action
Feed : 5-Round internal magazine
Berat : 12.1 lb (5.49 kg) empty without telescope
Panjang : 43in (1092mm)
Bidikan : 10×42 Leupold Ultra M3A telescope sight (Mil-Dots),
plus detachable emergency iron sights. (Redfield Palma International)
Barre : 416R Stainless Steel, 24″ length, 1:11.2″ twist, 5 radial land grooves
Stock: HS Precision – adjustable length.
Jangkauan Maksimal: 800 meters (875 yards)
Expected Accuracy : 1 MOA with M118
.5 MOA with M118LR
Spoiler for Slurpp: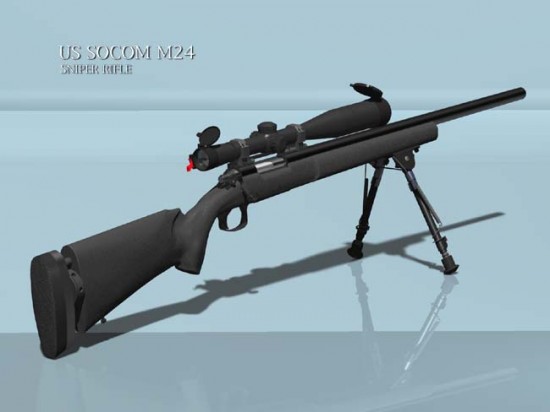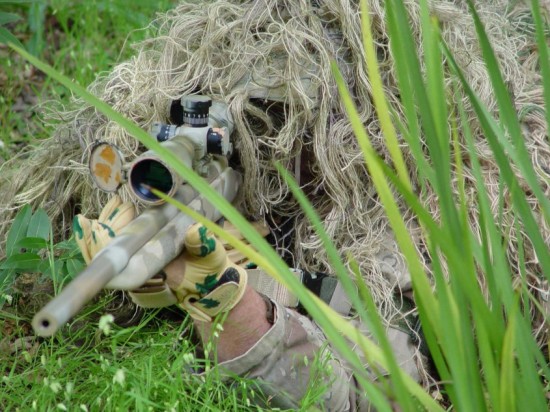 Quote:

Knights SR-25 karabin, versi sipil dengan 16 "buttstock barel dan teleskopik
------------------------------------------------------------------
S P E K
Type Sniper rifle
Place of origin United States
Service history
In service 1990
Used by See Users
Wars Afghanistan War, Iraq War, 2006 East Timorese crisis, 2nd Intifada
Production history
Designer Eugene Stoner
Manufacturer Knight's Armament Company
Variants SR-25 Enhanced Match rifle, with 20 in (510 mm) barrelSR-25 Enhanced Match Carbine, with 16 in (410 mm) barrel and M110 flash suppressor
Specifications
Weight Match Rifle 10.75 lb (4.88 kg),
LwMatch 9.5 lb (4.3 kg),
Carbine 7.5 lb (3.4 kg),
Sporter 8.75 lb (3.97 kg)
Length 1,118 mm (44.0 in)
Barrel length Match Rifle 24 in (610 mm)(also LwMatch & Sporter 20 in/510 mm, Carbine 16 in/410 mm)
----------------------------------------------------------------------
Cartridge 7.62×51mm NATO
Action Gas-operated, rotating bolt
Rate of fire Semi-automatic
Feed system 10 and 20-round detachable box magazine

Spoiler for Slurpp: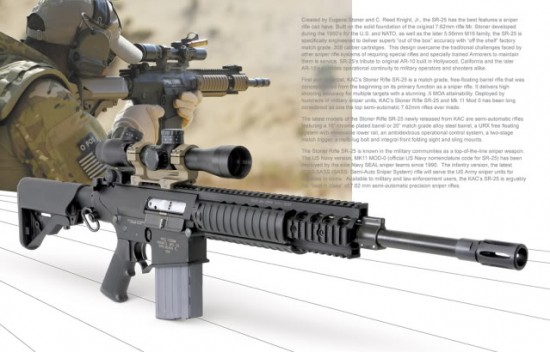 Quote:
Quote:
8. L42 Enfield ( Inggris )
S P E K
Type Bolt-action rifle
Place of origin United Kingdom United Kingdom
Service history
In service 1895-1926 (MLE)
1907–present (SMLE)
Used by
Wars Second Boer War
First World War
Second World War
Various Colonial conflicts
Irish War of Independence
Malayan Emergency
Korean War
Nepalese Civil War
Afganistan conflict
and numerous other conflicts.
Production history
Designer James Paris Lee, RSAF Enfield
Produced 1895-1907 (MLE)
1907– (SMLE)
Number built over 17,000,000 (All Variants)[1]
Variants Short, Magazine Lee Enfield Mk. I, Mk. I*, Mk.III, Mk. III*, Rifle No. 4 Mk. 1, Mk. 1* (produced by Savage and Long Branch), Mk. 1(T) Sniper Rifle, Mk. 2, Rifle No 5 Mk. 1 (Jungle Carbine)
Specifications
Weight ~4 kg (8.8 lb) depending on wood density
Length 1,130 mm (44.5 in)
Barrel length 635 mm (25 in)
-------------------------------------------------------------
Cartridge .303 Mk VII SAA Ball
Action Bolt-action
Muzzle velocity 744 m/s (2,441 ft/s)
Effective range 550 yards (503 m)[2]
Maximum range 2,000 yd (1,829 m)
Feed system 10-round magazine, loaded with 5-round charger clips
Sights Sliding ramp rear sights, Fixed-post front sights, "Dial" long-range volley sights; Telescopic sights on Sniper models.
Spoiler for Slurpp: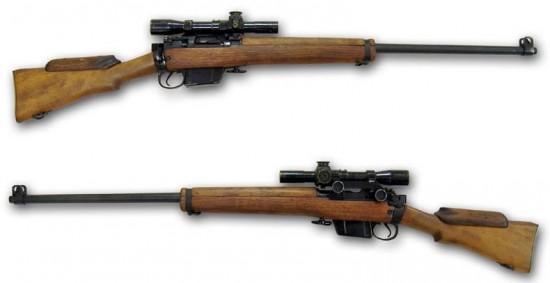 Quote:
Quote:
S P E K
Type Sniper rifle
Place of origin United States
Service history
In service 1969–1988
Used by United States
Production history
Designer Army Weapons Command,
Combat Development Command,
Limited Warfare Agency
Designed 1969
Manufacturer Rock Island Arsenal, Springfield Armory
Variants M25
Specifications
Weight 5.27 kg (11.6 lb)
Length 1118 mm (44 in)
Barrel length 560 mm (22 in)
-----------------------------------------------------
Cartridge 7.62×51mm NATO
Action Gas-operated, rotating bolt
Muzzle velocity 853 m/s (2,800 ft/s)
Effective range 690 m (750 yd)
Feed system 5, 10 or 20-round detachable boxmagazine
Sights Front: National Match front blade .062
Rear: Match-grade hooded aperture with one-half minute adjustments for both windage and elevation.
26 3/4 in sight radius.
Spoiler for Slurpp:
[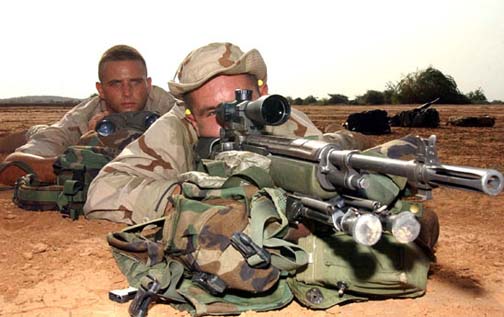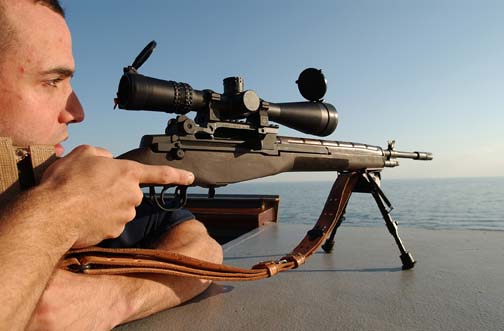 Quote:
Quote:
S P E K
Type Sniper rifle
Place of origin West Germany
Service history
In service 1972-present
Used by Germans
Production history
Designer Heckler & Koch GmbH
Designed 1970s
Manufacturer Heckler & Koch GmbH
SEDENA (licensed)
Produced 1972–present
Variants PSG1A1, MSG90, MSG90A1
Specifications
Weight 7.2 kg (15.87 lb)
Length 1,230 mm (48.4 in)
Barrel length 650 mm (25.6 in)
Width 59 mm (2.3 in)
Height 258 mm (10.2 in) with telescopic sight
--------------------------------------------------
Cartridge 7.62×51mm NATO
Action Roller-delayed blowback
Muzzle velocity 868 m/s (2,848 ft/s)
Effective range 800 m
Feed system 5- or 20-round detachable box magazineor 50-round drum
Sights Hendsoldt ZF6×42PSG1 telescopic sightwith illuminated reticle
Spoiler for Slurpp: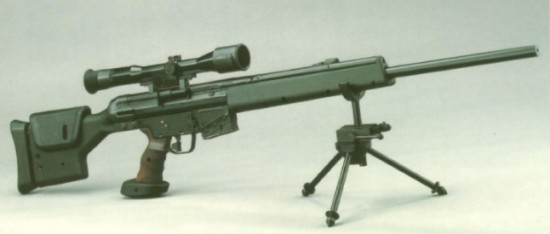 Quote:
5. Dragunov svd (soviet union)
Quote:
s p e k
type sniper rifle
place of origin soviet union
service history
in service 1963–present
used by russians
wars vietnam war,[1] soviet war in afghanistan, iraq war, yugoslav wars,first and second chechen wars, 2008 south ossetia war
production history
designer evgeny dragunov
designed 1958–1963
manufacturer izhmash, norinco, zastava arms
produced 1963–present[2]
variants see variants
specifications
weight 4.30 kg (9.48 lb) (with scope and unloaded magazine)[2]
4.68 kg (10.3 lb) (svds)
4.40 kg (9.7 lb) (svu)
5.02 kg (11.1 lb) (swd-m)
length 1,225 mm (48.2 in) (svd)[2]
1,135 mm (44.7 in) stock extended / 815 mm (32.1 in) stock folded (svds)
900 mm (35.4 in) (svu)
1,125 mm (44.3 in) (swd-m)
barrel length 610 mm (24.0 in) (svd, swd-m)[2]
565 mm (22.2 in) (svds)
600 mm (23.6 in) (svu)
----------------------------------------------------
cartridge 7.62×54mmr[2]
action gas-operated, rotating bolt
muzzle velocity 830 m/s (2,723 ft/s) (svd, svds, swd-m)
800 m/s (2,624.7 ft/s) (svu)
effective range up to 800 m sight adjustments for point targets
maximum range 1,300 m with scope
1,200 m with iron sights
feed system 10-round detachable box magazine
sights pso-1 telescopic sight and iron sights with an adjustable rear notch sight
Spoiler for slurpp: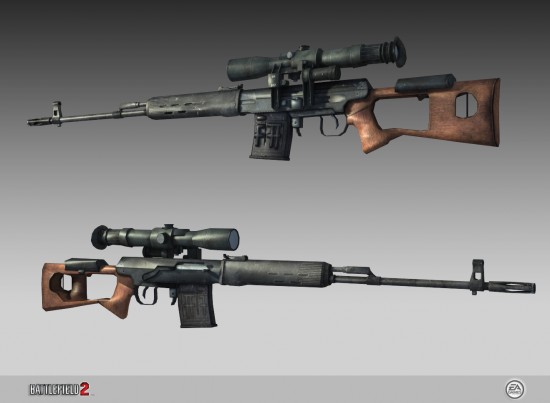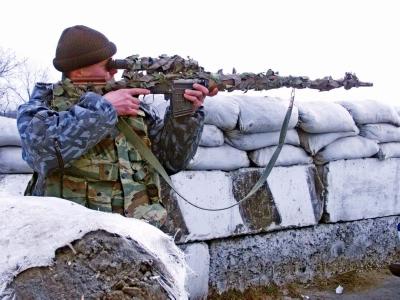 Quote:

s p e k
type anti-materiel rifle, sniper rifle
place of origin united kingdom
production history
designed 2005 or 2006
produced 2006
number built unknown
variants 1 as50
specifications
weight 27 lb (12.2 kg) (no scope/sight, empty mag)
length 53.9″ (1369 mm)
barrel length 692 mm
---------------------------------------------
cartridge 12.7 x 99 mm nato
caliber 12.7 mm .50 bmg
action direct impingement[citation needed]
rate of fire semi-automatic, estimated at 5 rounds/1.3 seconds
effective range 1,500 m
feed system 5 or 10 round detachable box magazine

Spoiler for slurpp: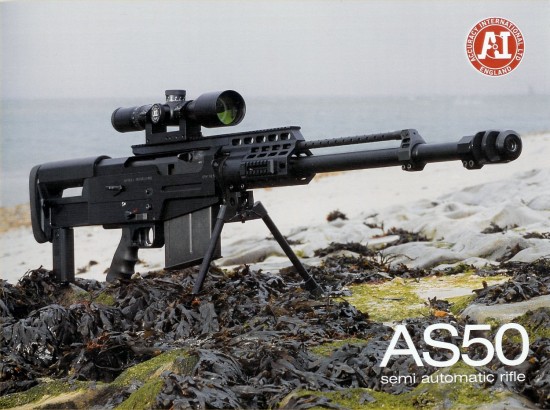 Quote:
Quote:
3. Barrett .50 cal ( usa )
s p e k
type sniper rifle
place of origin united states
production history
manufacturer barrett firearms company
unit cost $3800-$4000
specifications
weight 25 lb (11.36 kg)
length 50.4 in (1280 mm)
barrel length 32 inches (813 mm)
-------------------------------------
cartridge .50 bmg (12.7 × 99 mm),
.416 barrett
action single shot, bolt action
Spoiler for slurpp: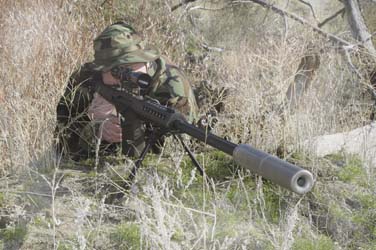 Quote:
Quote:
2. Cheytac .408 cal ( usa )
Quote:
s p e k
type rifle
place of origin united states
production history
designer john taylor and william o. Wordman
designed 2001
manufacturer chey tac
produced 2001–present
variants .375 chey tac
specifications
parent case .505 gibbs
case type rimless, bottleneck
bullet diameter .408 in (10.4 mm)
neck diameter .438 in (11.1 mm)
shoulder diameter .601 in (15.3 mm)
base diameter .637 in (16.2 mm)
rim diameter .640 in (16.3 mm)
rim thickness .065 in (1.7 mm)
case length 3.04 in (77 mm)
overall length 4.307 in (109.4 mm)
case capacity 159 gr h2o (10.335 cm³)
rifling twist 1 in 13 in (330.2 mm)
primer type large rifle
maximum pressure 63,800 psi (440 mpa)
ballistic performance
bullet weight/type velocity energy
305 gr (19.8 g) solid 3,500 ft/s (1,100 m/s) 8,298 ft·lbf(11,251 j)
419 gr (27.2 g) solid 3,000 ft/s (910 m/s) 8,376 ft·lbf(11,356 j)
source: Cartridges of the world
Spoiler for slurpp:
[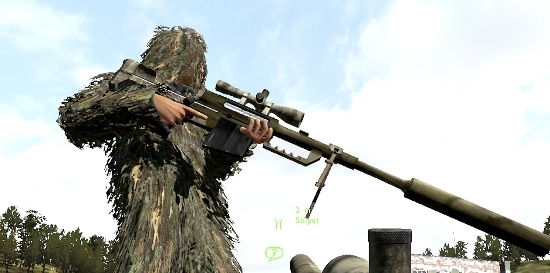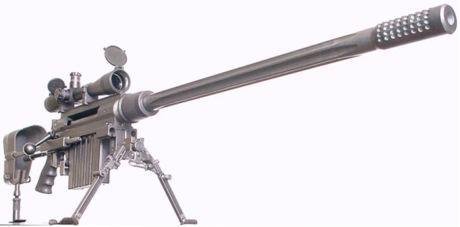 Quote:
Quote:
1. L115a3 awm. Psg1 ( inggris )
Quote:
s p e k
type sniper rifle
place of origin united kingdom
service history
in service 1997 – present
used by see users
wars afghanistan war, iraq war
production history
manufacturer accuracy international
specifications
weight 6.5 kg (14.3 lb) (.300 winchester magnum)
6.9 kg (15.1 lb) (.338 lapua magnum)
with stock, bipod and empty magazine
length 1200 mm (47.2 in) (.300 win. Mag.)
1230 mm (48.4 in) (.338 lapua magnum)
barrel length 660 mm (26 in) (.300 win. Mag.)
686 mm (27 in) (.338 lapua magnum)
---------------------------------------------------
cartridge .300 winchester magnum
.338 lapua magnum
action bolt-action
effective range 1,100 metres (1,203 yd)
.300 winchester magnum[1]
1,400 metres (1,531 yd)
.338 lapua magnum[1]
feed system 5-round detachable box magazine
sights detachable aperture type iron sights
day or night optics
Spoiler for slurpp: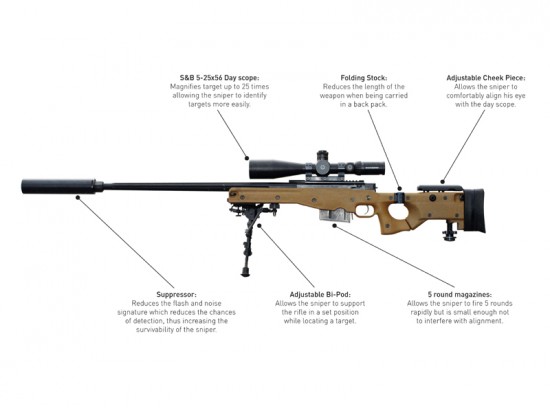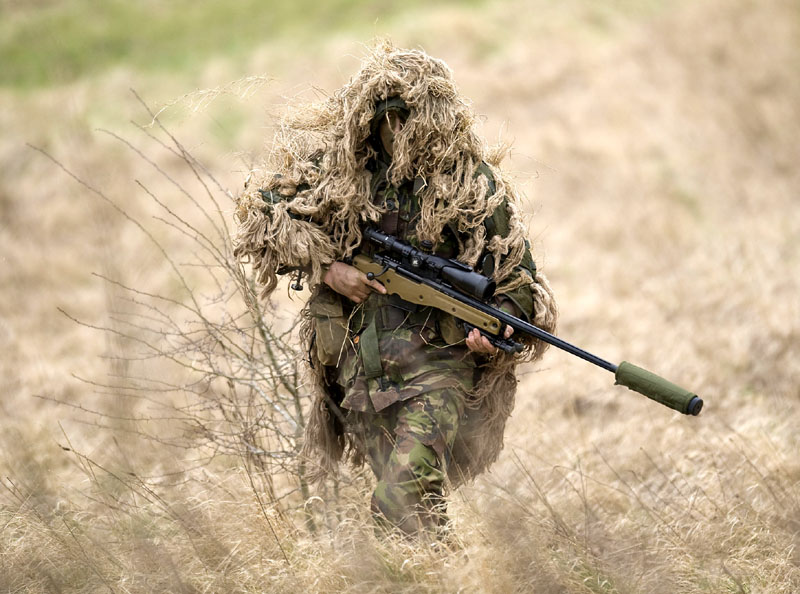 ---